John Frascella's New York Mets Fan Profile
Profile photo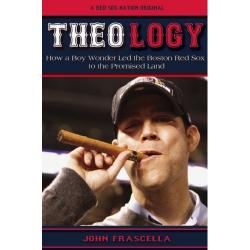 Brief description
John Frascella is the author of "Theo-logy: How a Boy Wonder Led the Red Sox to the Promised Land." He was the former lead sports columnist at the University of Connecticut.
Who am I?
My name is John Frascella, and I am the author of the baseball book entitled "Theo-logy: How a Boy Wonder Led the Red Sox to the Promised Land." It's been published by the Sterling and Ross/Cambridge House Press, and was released on April 1. The book is centered on Boston Red Sox general manager Theo Epstein. Check it out on Amazon.com:

Check out Theo-logy: How a Boy Wonder Led the Red Sox to the Promised Land at Amazon.com.

"Theo-logy: How a Boy Wonder Led the Red Sox to the Promised Land," is also available online at Barnes and Noble, Borders, and many other book/music/media websites. Barnes and Noble stores are carrying it throughout the country.

I was formerly the lead sports columnist at the University of Connecticut, and I've covered the NBA, NFL, MLB, and NCAA Men's Basketball. My teams of choice are the Mets, Nets, Knicks, Jets, UConn Huskies, and Islanders. My guilty pleasure teams are the Lakers, Cowboys, and sometimes both the Yankees and Red Sox.

Some of you may know me as "JFro" at this FanNation blog:

http://www.fannation.com/blogs/show

And I also have blogged at the following addresses:

http://jfrojour.blogspot.com/
http://jfrosports.blogspot.com/

Hopefully you'll enjoy the blog I've begun here. I'll be covering the NBA, NFL, MLB, and sometimes NCAA Men's Basketball. Thanks for reading! Please, don't hesitate to provide feedback.
John Frascella's comment wall
No comments on this wall. Login to post a comment.
John Frascella's Weblog Posts
NFL Week 3: Notes and Commentary posted on 09/27/2009

(I've also posted this on my blog at FanNation.com).
It's been an interesting NFL Sunday thus far, so I had the urge to get my two cents in on the day's events. First thing that comes to my mind, it's going right into this post...
-New York football is riding high, as both the Jets and Giants have improved to 3-0. The Giants had a walk in the park against the laughable Tampa Bay Bucs, but the Jets had to work extremely hard for their victory against the desperate Tennessee Titans. Rex Ryan's boys (and my favorite team) certainly earned the win, but Tennessee's wide receiver drops had a little something to do with it. Kerry Collins' statistics were very misleading today; he actually played well.
-My preseason predictions suggested a bit of a surprising season for the Washington Redskins in the NFC East, but the surprise is how BAD they are. Congrats to the Detroit Lions on breaking their seemingly endless losing streak against the 'Skins. Jim Zorn's crew had the opportunity to steal away the victory in the late fourth, but Detroit held its ground. Washington simply doesn't have the weapons on the offensive side of the ball. Clinton Portis played banged up but didn't provide much.
Continue reading "NFL Week 3: Notes and Commentary"
(0 comments)
Bobby Parnell is NOT a starting pitcher. posted on 09/17/2009

If the Mets head into next season with Bobby Parnell in their plans for the starting rotation, I'm becoming either a Phillies or Yankees fan. I can't take it anymore...I just can't. Parnell is garbage!
Can he be decent as a one inning middle reliever in not-so-tight situations? Probably, because he has a 94-99 MPH fastball when he works short appearances. But other than that, this guy is probably closer to a AAA pitcher than a major leaguer.
Unless you have natural ability the likes of Ubaldo Jimenez, you have to have a BRAIN to be a successful starting pitcher at the game's highest level. Parnell stays on a plain with the opposing hitters' belts, which is an obvious recipe for disaster. He has extreme difficulty shooting the knees, and that's why his 96 MPH heaters get smacked around like 87 or 88.
Continue reading "Bobby Parnell is NOT a starting pitcher."
(0 comments)
Cubs Say They Will Shop Zambrano posted on 09/15/2009

When the 2009 MLB season comes to a close, the Chicago Cubs have announced that they will shop starting pitcher Carlos Zambrano in hopes of swinging a trade and dumping much of his monstrous contract. The question is, should the Mets be interested in the massive right-hander?
That's the question a friend asked me earlier today, and I said, "Sure. It's not like we have anyone better" -- with the obvious exception of Johan Santana. As far as physical ability goes, Zambrano isn't the 97-99 MPH flamethrower he was four or five seasons ago, but he maintains an effective power sinker that would work nicely at Citi Field. I thought he looked hurt in 2008, but I've seen the life return to his sinker this season.
The obstacle in the Mets' way would be of the financial variety. By now many of you know that the Wilpons were ripped off by Bernie Madoff, and reports have suggested as much as $700 million in losses. If the actual number is anywhere near that figure, it would be awfully difficult for the Mets to house Zambrano's hefty contract. Only time will tell, I guess.
Continue reading "Cubs Say They Will Shop Zambrano"
(0 comments)
Have the Rockies locked up the NL Wild Card? posted on 09/14/2009

As it stands right now, the Colorado Rockies are 4.5 games ahead of the San Francisco Giants in the National League Wild Card race. The Rockies have been a bit of a surprise team this season, after an unimpressive '08 campaign and the loss of Matt Holliday during the offseason. They've thrived after the firing of Clint Hurdle, as Jim Tracy has pushed the right buttons, rarely ever taking a misstep.
Considering the way they've played in recent months, is a 4.5 game cushion plenty for the Rockies? Can the Giants, Marlins, and Braves kiss their playoff hopes goodbye?
Well, I've never quite been a believer in the Giants. Sure they have Tim Lincecum and Matt Cain at the top of their rotation, but it's difficult to gather momentum with an offense as impotent as theirs. They'd be tough in a short series because of their starting pitching, but I doubt they'll get to that point.
Continue reading "Have the Rockies locked up the NL Wild Card?"
(0 comments)
Pedro sticks it to his old mates posted on 09/14/2009

As if the 2009 season couldn't get any worse for the Metropolitans, Pedro Martinez had to go and embarrass them on national television last night. While Tim Redding (who I can't stand) pitched his ass off for the Mets, their anemic offense couldn't help him out. The Phillies' famously potent lineup was held to just one run...
And the Mets STILL couldn't find a way to win. Pedro, whom the Mets opted to pass on this offseason, went eight strong innings without allowing a single run. Pedro struck out seven, and scattered six hits. He was featuring an 88-92 MPH fastball, a sweeping curve, and an excellent change-up to left-handed hitters.
Oh well, I guess the Mets' front office was positive that Redding was the better choice this offseason. Another real winner for this sorry organization.
Continue reading "Pedro sticks it to his old mates"
(0 comments)